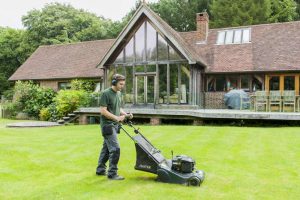 Everyone wants an impressive looking lawn. To achieve the best results your lawn will require the care and attention that only experienced, capable and competent lawn care specialists can provide.
If you are looking for a company that can care for your lawn properly and give it that extra 'wow-factor' you will require a lawn care company that is experienced in all aspects of lawn care.
Our skilled, professional and knowledgeable lawn care experts will take the time to provide the care for your lawn that it requires, so that you can be confident that we can create a lawn that you will not just like, you will love.
Now you can have a great looking lawn
---
With our top quality lawn care services you will never need to worry about what your lawn looks like ever again, no matter how large or small it is.
Now you can relax knowing that our team of skilled, professional and knowledgeable lawn care experts are able to assist with all aspects of caring for your lawn.
We provide high quality and affordable lawn care and improvement services, as standard, that other lawn care companies often cannot match.
Our lawn care services
---
We understand that your lawn is the most important part of your garden. We also understand the pleasure people get from having great looking lawns.
Our company creates great looking lawn with a comprehensive lawn care and maintenance service, which includes:
Fertilising
Hollow tine aeration
Lawn disease
Moss control
Mowing and weeding
Patch repair
Pet and pest damage repair
Scarification
Seeding
Spiking
Thatching
Top dressing and lawn levelling
Turfing
Weed control
How much does it cost?
---
For us to give you an accurate cost, we will need to visit you at your home or business premises. The purpose of this meeting will be to gauge the meterage of your lawn and understand exactly what you would like to achieve.
To arrange your free, no obligation quotation, please follow this link or call us on or email
As specialists in creating and looking after beautiful lawns we will take the time, care and effort necessary to make your lawn look great and to keeping it that way. All of our services not only improve the look of your lawn, they improve the health of your lawn too, so that it stays looking great for longer.
For a free, no obligation quotation please contact us on or email