Jet washing is a cost effective, efficient and affordable way of cleaning large areas quickly.  We use modern jet washing equipment and techniques that can transform unloved and soiled surfaces, restoring them to their former glory.
Our trained and professional staff provide our jet washing service to both domestic and commercial clients anywhere in and around Orpington.
Why jet washing?
---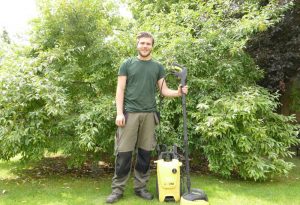 Over time, surfaces can become soiled, slippery or unsightly.
Jet washing is appropriate for cleaning most non-porous outdoor surfaces and often bringing them to a level of cleanliness not see since they were initially installed.
Jet washing can remove unwanted materials quickly and efficiently. Dirt, algae, moss and oil are simply a few of the many commonplace deposits that can present a slipping hazard and render access ways and paths dangerous if walked on.
Jet washing surfaces at your home or business can ensure that residents, staff and customers can go about their business without the risk of dangerous and expensive trips, slips and falls.
Our jet washing service
---
Our jet washing service is suitable for cleaning a wide range of surfaces including, but not limited to, the following:
Car parks and forecourts
Fascia, soffits and guttering
Driveways and pathways
Patios and decking
Conservatories and garage roofs
Steps, stairs and ramps
Walls, brickwork and panelling
Outdoor furniture
Paving and tiling
Our costs are fully transparent. We charge by the square meter, not per hour. This means that you can be sure of the final cost before we start work. Furthermore, the price on your free, no obligation written quotation will be the exact amount you pay when the job is completed.
(For best results, this service requires access to a garden tap or other outdoor clean water supply)
For a free, no obligation quotation please contact us on or email