Welcome to Hayfield Landscapes, providing expert gardening services in the Orpington and Bromley areas
---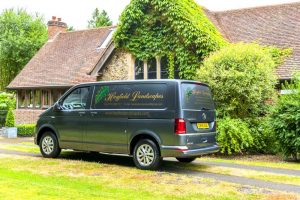 Hayfield Landscapes are gardeners in Orpington, Kent who specialise in the provision of affordably priced, top quality garden maintenance, lawn care, garden clearance, landscaping, decking, fencing, grounds maintenance and jet washing.
We offer our services to schools and colleges, domestic, residential and commercial properties, car parks, forecourts, hotels and group accommodation.
Our company has a growing reputation for providing a top quality service using trained and experienced gardening specialists who are able to provide the complete range of ground and garden care services.
What makes us different from other gardeners in Orpington is our unique blend of horticultural skills, professionalism and attention to detail combined with a commitment to 100% customer satisfaction.
Why people recommend us for our garden services
---
Our list of happy, satisfied customers is growing all the time and there are many reasons why so many people are impressed with our service and recommend us to others:
Customer satisfaction is at the centre of everything we do
---
We take great pride in our work. We treat every job with the same care and meticulous attention to detail as we would with our own gardens. Furthermore, unlike so many other gardeners in Orpington, Kent, we are only satisfied with our work when YOU are satisfied with our work.
Our customers comment on our work as being unusually neat, considerate to people's property and we always remove our gardening waste material and debris.
We are always pleasantly surprised that so many people are generous enough to rate our service above other gardeners in Orpington, to tell their friends and family about the great service they received from us and are willing to recommend our gardening services to others.
We are garden and grounds care specialists
---
We love gardening and the changes that a transformed garden can make to a home and the people who live there.
Many business owners understand how a well maintained and tidy grounds surrounding a business sends the correct message to visitors, customers and future customers.
Our company only uses skilled, professional, experienced and dedicated specialists to provide a quality of service as standard that other gardeners in Orpington struggle to beat.
A top quality service, at affordable prices
---
We provide a top quality and affordable gardening and grounds care service using professional gardening and horticultural specialists.
Our company owner insists on meeting with all of our customers and potential customers to discuss their requirements and to explain how we can help. We provide a quality, personal service and no job too big or too small for us. We pride ourselves on the fact that we are small enough that you can discuss all of your requirements directly with our company's owner, yet large enough to provide all of your gardening and grounds care service needs.
Affordable and reasonably priced services
---
All of our services are affordable and reasonably priced. We have a transparent pricing policy which means that the amount on your quote is the amount you pay when the job is completed. Furthermore, as every open space is unique we design a gardening and grounds maintenance service that not only meets your requirements, it suits your budget, too. This means that whether you require us for a one off job or on a regular basis we are sure we can help.
We go that extra mile
---
Unlike so many gardeners in Orpington we are a company that is happy to go that extra mile for our customers – it is just the way we prefer to work. We are not happy with the service you receive until you are happy with the service you receive.
Our company only uses specialists who are trustworthy, reliable, professional and well presented at all times. The drive to do well and deliver 100% customer satisfaction is what keeps us going. We always tidy up when we are finished and we remove and dispose of cleared materials quickly and safely.
For a free, no obligation quotation please contact us on or email
Have we inspired you to take the next step?
We certainly hope so – click here to book your free quotation