Installing beautiful decking is a great way to get more out of your garden. However, installing long lasting decking is a skilled and specialised job that requires the services of experienced tradesmen. This is especially important if you require more complex layouts, where decking will be laid over uneven surfaces, built on surfaces of varying heights and gradients and where garden drainage might be an issue.
We are decking installation specialists. Our tradesmen have extensive experience of installing all types of garden decking regardless of the size, location of how complicated it may be.
Decking that the whole family can enjoy
---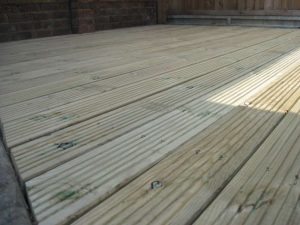 Decking is a wonderful way to create an attractive garden feature that the whole family can enjoy. Think of it as adding an extra room to your home. Your new decking is somewhere for you to relax, a safe place for the kids to play and an excellent place to entertain friends and family.
Furthermore, decking can be laid over flat and sloping land and one of the most popular aspects of decking is the opportunity to create visually attractive stairs and tiers, perhaps on areas of your garden you would not normally use.
Our decking service
---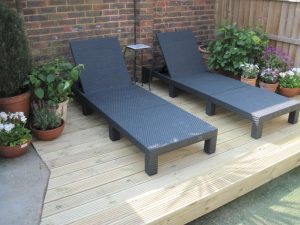 We recommend that you always use a company that uses skilled, experienced and trustworthy specialists to install your decking.
Our decking service uses skilled, experienced and professional tradesmen who can create stunning decking regardless of the terrain, or your requirements.
Once you have engaged our services one of our project managers will meet with you at your home to see the area to be decked and discuss your ideas and requirements.
We offer a free, no obligation quotation and your quote will include parts and labour. This means that the price in your quote will be the amount you pay once your decking is completed. If we anticipate further costs due to unforeseen complications we will discuss this with you and only progress with your agreement.
For a free, no obligation quotation please contact us on or email